Dominic Cronin's weblog
Showing blog entries tagged as: Gotchas
Just lately I've been tinkering a bit more with Linux-y things, among which trying to get to grips with a bit of bash scripting. As my main work environment is a Windows 10 system, the obvious place for such tinkering is in the Windows Sub-System for Linux (WSSL or WSL depending on whose abbreviation you favour). In any case, the bash prompt in Windows.
Generally, WSSL works rather well, <rant>my main proviso there being the really unhelpful problems with permissions. I get it... it's probably a really nasty job to fix it, but really!.... for chmod to be broken is just wrong! More to the point, it means I can't use a private key for ssh logins to other systems. Maybe I'll go back to cygwin after all.</rant>
Anyway, today's problem was rather more tractable. I wanted to edit a bash script using gvim. My first attempt was just to open it from the bash prompt:
dominic@DOMINIC:/mnt/d/code/bash$ gvim foo.sh
E233: cannot open display
Press ENTER or type command to continue
Yeah OK, that then falls back to a standard vim session in the terminal, but if that's what I'd wanted, I wouldn't have typed 'gvim'.
It turns out that there's a version of gvim in the Ubuntu user-space stuff that comes with WSSL. When you type gvim at the prompt, it finds /usr/bin/gvim in the PATH, and tries to open that.
Nil desperandum
dominic@DOMINIC:/mnt/d/code/bash$ file /usr/bin/gvim
/usr/bin/gvim: symbolic link to `/etc/alternatives/gvim'
dominic@DOMINIC:/mnt/d/code/bash$ sudo unlink /usr/bin/gvim
dominic@DOMINIC:/mnt/d/code/bash$ sudo ln -s /mnt/c/Program\ Files\ \(x86\)/vim/vim80/gvim.exe /usr/bin/gvim
After that it worked like a treat. Maybe the other way to go would be to see if you can get an XWindows server running on WSSL, but this got me up and running without having to get into even more faff with copies of rc files and whatnot.
Today I was working on some scripts to provision, among other things, the SDL Web deployer service. It should have been straightforward enough, I thought. Just copy the relevant directory and fix up a couple of configuration files. Well I got that far, at least, but my deployer service wouldn't start. When I looked in the logs and found this:  
2017-09-16 19:20:21,907 ERROR NonLegacyConfigConditional - The operation could not be performed.
com.sdl.delivery.configuration.ConfigurationException: Could not load legacy configuration
 at com.sdl.delivery.deployer.configuration.DeployerConfigurationLoader.configure(DeployerConfigurationLoader.java:136)
 at com.sdl.delivery.deployer.configuration.folder.NonLegacyConfigConditional.matches(NonLegacyConfigConditional.java:25)
I thought it was going to be a right head-scratcher. Fortunately, a little further down there was something a little more clue-bestowing: 
Caused by: org.xml.sax.SAXParseException: Content is not allowed in prolog.
 at org.apache.xerces.parsers.DOMParser.parse(Unknown Source)
 at org.apache.xerces.jaxp.DocumentBuilderImpl.parse(Unknown Source)
 at com.tridion.configuration.XMLConfigurationReader.readConfiguration(XMLConfigurationReader.java:124)
So it was about the XML. It seems that Xerxes thought I had content in my prolog. Great! At least, despite its protestations about a legacy configuration, there was a good clear message pointing to my "deployer-conf.xml". So I opened it up, thinking maybe my script had mangled something, but it all looked great. Then some subliminal, ancestral memory made me think of the Byte Order Mark. (OK, OK, it was Google, but honestly... the ancestors were there talking to me.) 
I opened up the deployer-conf.xml again, this time in a byte editor, and there  it was, as large as life: 

Three extra bytes that Xerxes thought had no business being there: the Byte Order Mark, or BOM. (I had to check that. I'm more used to a two-byte BOM, but for UTF-8 it's three. And yes - do follow this link for a more in-depth read, especially if you don't know what a BOM is for. All will be revealed.) 
What you'll also find if you follow that link is that Xerxes is perfectly entitled to think that, as it's a "non-normative" part of the standard. Great eh?
Anyway - so how did the BOM get there, and what was the solution? 
My provisioning scripts are written in Windows PowerShell, and I'd chosen to use PowerShell's "native" XML processing, which amounts to System.Xml.XmlDocument. In previous versions of these scripts, I'd used XLinq, but it's not really a good fit with PowerShell as you can't really use XPath without extension methods. So I gave up XLinq's ease of parsing fragments for a return to XmlDocument. To be honest, I wouldn't be surprised if the BOM problem also happens with XLinq: after all, it's Xerxes that's being fussy - you could argue Microsoft is playing "by the book".
So what I was doing was this. 
$config = [xml](gc $deployerConfig)
Obviously, $deployerConfig refers to the configuration file, and I'm using Powershell's Get-Content cmdlet to read the file from disk. The [xml] cast automatically loads it into an XmlDocument, represented by the $config variable. I then do various manipulations in the XmlDocument, and eventually I want to write it back to disk. The obvious thing to do is just use the Save() method to write it back to the same location, like this: 
$config.Save($deployerConfig)
 Unfortunately, this gives us the unwanted BOM, so instead we have to explicitly control the encoding, like this: 
$encoding = new-object System.Text.UTF8Encoding $false
$writer = new-object System.IO.StreamWriter($deployerConfig,$false,$encoding)
$config.Save($writer)
$writer.Close()
 As you can see, we're still using Save(), but this time with the overload that writes to a stream, and also allows us to pass in an encoding. This seems to work fine, and Xerces doesn't cough it's lunch up when you try to start the deployer. 
I think it will be increasingly common for people to script their setups. SDL's own "quickinstall" doesn't use an XML parser at all, but simply does string replacements based on its own, presumably hand-made, copies of the configuration files. Still - one of the obvious benefits of having XML configuration files is that you can use XML processing tools to manipulate them, so I hope future versions of the content delivery microservices will be more robust in this respect. Until then, here's the workaround. As usual - any feedback or alternative approaches are welcome. 
I've recently been setting up a development image for SDL Web 8.5, and as it's only for use on my development rig, it's fair game to use Microsoft SQL Server Developer edition. It's not supported by SDL, but it's close enough to make it a reasonable risk for my purposes. I got the databases set up and the content manager installed OK, so I moved on to the content delivery stack. 
First I hacked together a database test script to make sure I had all the logins correct etc. I've done it this way for years, and you may have seen my blog about it quite a long time ago.  Everything seemed fine. 
I'd started with the Discovery service, and I'd configured the cd_storage_conf.xml with the relevant database settings I'd just tested. How hard could it be? Except that it didn't work. I got messages in the logs telling me to check my firewall. Doh! Off I went and opened up the firewall ports for my microservices (which I'd forgotten to do) and also 1433 for MSSQL. Still no joy. 
Somewhere along the way I'd also disabled loopback checking and double-checked a bunch of other things that can cause trouble. No joy. 
I went back to my database test script a few times. It uses a System.Data.SqlClient.SqlConnection to execute a simple command. The connection string specifies '(local)' as the server. I'd had trouble with using '(local)' in the cd_storage_conf.xml in a previous version of Tridion, so I had specified 'localhost' instead, and then when that didn't work, a different name that mapped to the same interface. Still nothing. 
The troubling thing was that the test script worked fine. Why was that, when Tridion's java stack had trouble doing the same thing? I should have cottoned on to this way earlier, but eventually I started checking to see if there was actually anything listening on 1433. No there wasn't. Well that helped. And then I started poking around in the network configuration of SQL Server. Sure enough: TCP/IP wasn't enabled. I'm still not sure if this is a Developer edition thing. I seem to recall having come across it before. I'm not the only one. Now that I know the answer, finding a suitable Stack Overflow answer is easy! Maybe I'd had trouble with SQLEXPRESS. 
Anyway, at least that explained why my test script worked OK. The SqlConnection client sees '(local)' and is then able to attempt a named pipes or shared memory connection as well as TCP/IP. The java client, on the other hand, doesn't have this repertoire of options and if TCP/IP fails, it's over.
Anyway - now it's fixed. Just time for a quick Note To Self, and on with the rest of my system. 
I've just broken my Tridion system. I had a perfectly good SDL Web 8.1.1 installation, and I've broken it upgrading to 8.5. This is really annoying. I'm gritting my teeth as I type this, and trying not to actively froth at the mouth. It's annoying for two reasons: 
The documentation told me to 
I got burned exactly the same way going form 8.1 to 8.1.1 and I don't seem to have learned my lesson. 
So what exactly am I ranting about? Let me explain. 
Take the discovery service as an example, but the same thing applies to the other services. Look at the documentation for Upgrading the Discovery Service. Check out the highlighted line below: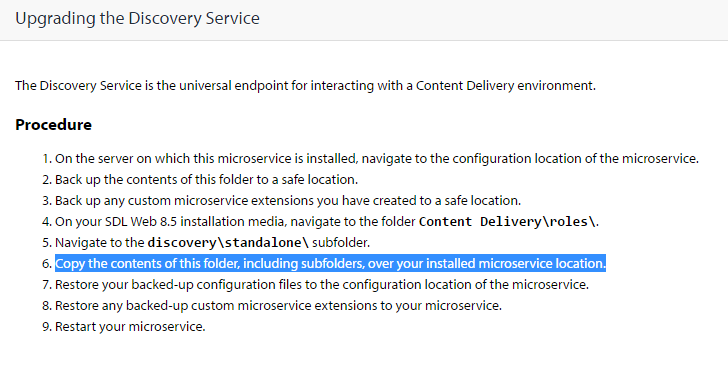 Doing this goes against the grain for anyone with experience of setting up servers. Copying a clean "known good" situation over a possibly dirty implementation and expecting it to work is asking for trouble. I'd never have written these instructions myself. What on earth was I thinking when I blindly followed them? 
The service directory that you're attempting to overwrite contains a lib directory full of jars, and a services directory containing yet two more directories of jars. What you want to do is replace the jars with their new versions. This would be fine if all the jars had the same name as before, and there weren't any that shouldn't be there any more. As it is, the file names include their version numbers, so you end up with both versions of everything, like this: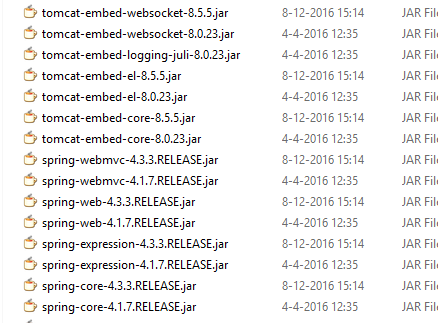 This results in messages like "Class path contains multiple SLF4J bindings" and ensures that your services don't start. The solution is simple enough. Go to the various directories, and make sure that they contain only the jars from the 8.5 release. 
Fortunately, I'm still feeling very positive about the folks at SDL in the wake of having received the MVP award again. I suppose I'll forgive them.... once I finish cleaning up the rest of my services. 
Update: After posting this fairly late last night, it's now not even lunch time the following day, and I've already been informed that SDL have seen this, and are already taking action to update the documentation. That's pretty good going. Thanks